Innovative solutions for limousine businesses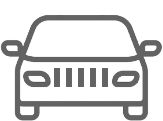 Lines of business*
Automobile liability
Physical damage
General liability
Liability coverage/limits*
Up to $1.5MM CSL
Higher limits available at the underwriter's discretion
Physical damage*
Minimum $500 deductible for comprehensive and collision coverages
Minimum stated value or ACV of $10,000
Stated values greater than $250,000 must be reinsured
Terminal exposures greater than $1MM in total value will be reinsured
Units older than 10 years require underwriting approval. A current mechanic's statement and photograph may be required at the underwriter's discretion.
Vehicles*
Luxury sedans and stretches, vans, and minibuses
Vehicles with seating capacity greater than 8 passengers, excluding the driver, may be rated as a charter bus
Classic vehicles, stretches greater than 150 inches long, and vehicles with unique modifications will be considered at the underwriter's discretion
Eligible operations*
Pickups arranged at least 24 hours in advance
Vehicles used for special events (weddings, proms, funerals), business functions, airport trips, and local "nights on the town"
New ventures may be acceptable with resume or letter indicating experience operating a similar vehicle type
Radius of operation within 100 miles
Must be present at beginning and end of event
Ineligible operations*
Risks that operate as demand-response units
Risks with fare boxes or meters

To obtain more information about limousine insurance with AGMI or to get more specific detail about the information outlined above, please fill out the form below.
*Eligibility of individual risks and availability of insurance services is ultimately determined by AGMI underwriting. You should consult the actual insurance policy or your broker for details regarding policy terms, conditions, coverage, exclusions, products, services, and programs which may be available to you. Your eligibility for particular products and services is subject to meeting underwriting qualifications and final acceptance by the insurance company providing such products or services.