Innovative solutions for car service/livery businesses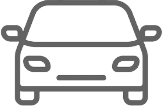 Liability coverage/limits*
Physical damage*
Units older than 10 years require underwriting approval. A current mechanic's statement and photograph may be required at the underwriter's discretion.
Vehicles*
Sedans and minivans with capacity of 15 or less, excluding the driver
Eligible operations*
For-hire transportation of passengers. Insured must be dispatched from or a member of a radio group or association, or possess a medallion.
Demand-response units with less than 24-hour prearranged pickup reservations
New venture individuals with 2 years professional driving experience or new venture partnerships may be acceptable with resume or letter indicating experience operating a similar vehicle type
In jurisdictions where owner-operators receive a discount, refer to the state-specific filing for eligibility and credit allowed
Double shifts are eligible with proof of a current formal maintenance program
May be present at beginning and end of event, but not required
Lines of business*
Gypsy cabs
New venture corporations, unless there is previous insurance history which is favorable and that can be substantiated
Triple shifts

To obtain more information about car service/livery insurance with AGMI or to get more specific detail about the information outlined above, please fill out the form below.
*Eligibility of individual risks and availability of insurance services is ultimately determined by AGMI underwriting. You should consult the actual insurance policy or your broker for details regarding policy terms, conditions, coverage, exclusions, products, services, and programs which may be available to you. Your eligibility for particular products and services is subject to meeting underwriting qualifications and final acceptance by the insurance company providing such products or services.